JUBA -29 JUN 2021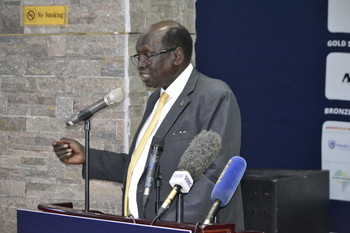 As the South Sudan Oil and Power Conference kicked off in Juba Tuesday, Dr. Barnaba Marial Benjamin, South Sudan's minister of presidential affairs, drew the investors' attention to infrastructure development.
Marial, who was the guest of honor at the launch of the conference, called on the oil prospectors to not only focus on oil but also venture into the construction of roads, which he says is equally lucrative.
"Roads in South Sudan are a priority. We have 14,000 km of roads to be built. That's an investment, you should come in. And it is properly mapped out, properly planned, all we lack is to get the money to build them. Although people know we have a lot of resources under the ground which is not useful to our people, it has not been possible for us to get loans so that we can proceed," he said.
Marial insisted that if the government were to get loans for infrastructure, it would be easy to build roads across the country.
"Now ( I ) am inviting you, when you hear about infrastructure in South Sudan it is a lucrative business that requires investment from people who really want to make profits in the long term," he urged.
According to the minister, the country is stable and conducive to investment, saying investments would strengthen the private sector and create jobs. He added that the government is implementing a new policy to ensure transparency in the oil sector.
"The recent recommencement of oil production in Block 5 and other blocks which have been advertised, is a commitment of a new policy in the oil industry to be transparent because there were a lot of accusations that oil in South Sudan is given under the table, that's not true now. So these blocks are out for the investors to apply for and am sure it will be a great help not only to this country but even for your investment," he assured.
For his part, the minister of petroleum Puot Kang said the government is working with Sudan to increase oil production in the neighboring nations.
The two-day conference is being held under the theme, 'Build the Nation, Capital raising and innovative financing to build critical infrastructure and energy projects'.
https://radiotamazuj.org/en/news/article/south-sudan-woos-investors-to-the-oil-sector-infrastructure