By
Going by his bank statements, Isam Ali isn't short of money — but in Sudan's cash-strapped capital that's exactly what he is.
Several times a week, the 45-year-old accountant lines up at one of the few ATMs in Khartoum still dispensing banknotes, waiting hours to withdraw the daily maximum of 2,000 Sudanese pounds ($42). That sum's being spread increasingly thinly to feed his family, as inflation in the North African nation hits its highest in two decades, quashing hopes 2017's lifting of U.S. sanctions could spur an economic revival.
The reality: three devaluations for the Sudanese pound this year, the central bank rushing to print more money and a government that can only promise further austerity as President Umar al-Bashir periodically hires and fires his ministers.
"Things are going from bad to worse and the government is changing the cabinet only to buy time," said Ali. A father of two, he's feeling the trickle-down from a dearth of foreign investment in Sudan and a chronic lack of liquidity in its banking system.
In a torrid decade for Sudan's $117.5 billion economy, which included the south seceding in 2011 with three-quarters of the united country's oil reserves, the past year may have been its worst.
Economic Contraction
Despite lifting most sanctions, the U.S. still lists Sudan as a state sponsor of terrorism, a designation that officials blame for the lack of significant new investment. Inflation is almost 70 percent, and the pound trades at 47.5 per dollar, plunging from 18 in January. The International Monetary Fund says the economy may contract 2.3 percent this year.
"People lost confidence in the banking system," says Hamid Eltagani, a Sudanese economics professor at the American University in Cairo. "The economy is becoming more of a rudimentary system of barter-exchange and the government has no instrument to entice cash into the banks."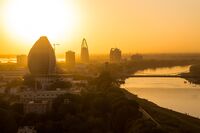 While the U.S. sanctions — imposed in 1997 on terrorism allegations — hit Sudanese government agencies that provided essential services, the nation's elites often found ways to circumvent them, setting up companies that benefited from preferential access to hard currency and contracts.
Click here for more about how Sudan's elites escaped the worst of U.S. sanctions
Al-Bashir has repeatedly blamed Sudan's economic troubles on alleged plots by the U.S. and other Western countries. He's said "fat cats" including unidentified bankers, black-market traders and smugglers also bear responsibility.
Prime Minister Mutaz Musa in October announced a 15-month plan to trim inflation, cut spending and tackle corruption while defending those on lower incomes. The government said on Saturday it was raising flour subsidies to protect the price of bread. A January decision to lower subsidies on that commodity and electricity sparked protests and dozens of arrests.
For Abdullah Ismail, 55, his day job isn't enough to make ends meet. The Sudan Railways Corp. workshop employee spends half his 4,000 pounds monthly salary on rent, then has to eke out food, transportation, electricity and school fees with the rest.
Debtor's Prison
He borrowed 10,000 pounds from a local bank to buy a small taxi and make extra money. But the fresh earnings were eaten up by rising expenses; he hasn't been able to make repayments for six months. "I failed and I'm in danger of being imprisoned" for the outstanding debt, Ismail said.
Losing oil plunged Sudan into crisis, but the country's involvement in a new deal to end South Sudan's five-year civil war could bring compensation.
As landlocked South Sudan boosts its crude output, that may mean extra revenue for Sudan, which collects fees for transporting oil by pipeline to a port on the Red Sea. Sudan pumped about 86,000 barrels per day of its own oil last year, according to BP Plc.
Gold has been touted as a replacement to oil, and exports of about 10.7 metric tons brought in $422 million in the first half of 2018, the Minerals Ministry says. But the government complains most exports don't go through official channels and has promised steps against smuggling.
Lacking Policies
"The political machine has run out of lubricants," said Eltagani, the academic. He described an "aging regime" with a "bankrupt ideology and a lack of clear policies to fix the ailing economy."
In the meantime, Sudanese like Zahra Ahmed — a 21-year-old arts student at the University of Khartoum — are looking for any work available to cover their expenses and tuition.
"My family can't manage to provide that for me as well as my two sisters," she said.
Link to web article.
Please follow and like us: